Pythagoras of Samos
(about 570 – d. about 490 BC) was an Ionian Greek philosopher, mathematician, and founder of the religious movement called Pythagoreanism.
Most of the information about Pythagoras was written down centuries after he lived, so very little reliable information is known about him. He was born on the island of Samos, and might have travelled widely in his youth, visiting Egypt and other places seeking knowledge. Around 530 BC, he moved to Croton, a Greek colony in southern Italy, and there set up a religious sect. His followers pursued the religious rites and practices developed by Pythagoras, and studied his philosophical theories. The society took an active role in the politics of Croton, but this eventually led to their downfall. The Pythagorean meeting-places were burned, and Pythagoras was forced to flee the city. He is said to have ended his days in Metapontum.
Pythagoras made influential contributions to philosophy and religious teaching in the late 6th century BC. He is often revered as a great mathematician, mystic and scientist, but he is best known for the Pythagorean theorem which bears his name. However, because legend and obfuscation cloud his work even more than with the other pre-Socratic philosophers, one can give account of his teachings to a little extent, and some have questioned whether he contributed much to mathematics and natural philosophy. Many of the accomplishments credited to Pythagoras may actually have been accomplishments of his colleagues and successors. Whether or not his disciples believed that everything was related to mathematics and that numbers were the ultimate reality is unknown. It was said that he was the first man to call himself a philosopher, or lover of wisdom, and Pythagorean ideas exercised a marked influence on Plato, and through him, all of Western philosophy.
Accurate facts about the life of Pythagoras are so few, and most information concerning him is of so late a date, and so untrustworthy, that it is impossible to provide more than a vague outline of his life. The lack of information by contemporary writers, together with the secrecy which surrounded the Pythagorean brotherhood, meant that invention took the place of facts. The stories which were created were eagerly sought by the Neoplatonist writers who provide most of the details about Pythagoras, but who were uncritical concerning anything which related to the gods or which was considered divine. Thus many myths were created – such as that Apollo was his father; that Pythagoras gleamed with a supernatural brightness; that he had a golden thigh; that Abaris came flying to him on a golden arrow; that he was seen in different places at one and the same time. Hence historians are often reduced to considering the statements based on their inherent probability, but even then, if all the credible stories concerning Pythagoras were supposed true, his range of activity would be impossibly vast. Diogenes Laertius reported that Pythagoras had undertaken extensive travels, and had visited not only Egypt, but Arabia, Phoenicia, Judaea, Babylon, and even India, for the purpose of collecting all available knowledge, and especially to learn information concerning the secret or mystic cults of the gods. Plutarch asserted in his book On Isis and Osiris that during his visit to Egypt, Pythagoras received instruction from the Egyptian priest Oenuphis of Heliopolis. Other ancient writers asserted his visit to Egypt. Enough of Egypt was known to attract the curiosity of an inquiring Greek, and contact between Samos and other parts of Greece with Egypt is mentioned. It is not easy to say how much Pythagoras learned from the Egyptian priests, or indeed, whether he learned anything at all from them. There was nothing in the symbolism which the Pythagoreans adopted which showed the distinct traces of Egypt. The secret religious rites of the Pythagoreans exhibited nothing but what might have been adopted in the spirit of Greek religion, by those who knew nothing of Egyptian mysteries. The philosophy and the institutions of Pythagoras might easily have been developed by a Greek mind exposed to the ordinary influences of the age. Even the ancient authorities note the similarities between the religious and ascetic peculiarities of Pythagoras with the Orphic or Cretan mysteries, or the Delphic oracle.
There is little direct evidence as to the kind and amount of knowledge which Pythagoras acquired, or as to his definite philosophical views. Everything of the kind mentioned by Plato and Aristotle is attributed not to Pythagoras, but to the Pythagoreans. Heraclitus stated that he was a man of extensive learning; and Xenophanes claimed that he believed in the transmigration of souls. Xenophanes mentions the story of his interceding on behalf of a dog that was being beaten, professing to recognize in its cries the voice of a departed friend. Pythagoras is supposed to have claimed that he had been Euphorbus, the son of Panthus, in the Trojan War, as well as various other characters, a tradesman, a courtesan, etc. In his book The Life of Apollonius of Tyana, Philostratus wrote that Pythagoras knew not only who he was himself, but also who he had been.
Many mathematical and scientific discoveries were attributed to Pythagoras, including his famous theorem, as well as discoveries in the field of music, astronomy, and medicine. But it was the religious element which made the profoundest impression upon his contemporaries. Thus the people of Croton were supposed to have identified him with the Hyperborean Apollo, and he was said to have practiced divination and prophecy. In the visits to various places in Greece – Delos, Sparta, Phlius, Crete, etc. which are ascribed to him, he usually appears either in his religious or priestly guise, or else as a law-giver. After his travels, Pythagoras moved (around 530 BC) to Croton, in Italy (Magna Graecia). Possibly the tyranny of Polycrates in Samos made it difficult for him to achieve his schemes there. His later admirers claimed that Pythagoras was so overburdened with public duties in Samos, because of the high estimation in which he was held by his fellow-citizens that he moved to Croton. On his arrival in Croton, he quickly attained extensive influence, and many people began to follow him. Later biographers tell fantastical stories of the effects of his eloquent speech in leading the people of Croton to abandon their luxurious and corrupt way of life and devote them to the purer system which he came to introduce.
No texts by Pythagoras are known to have survived, although forgeries under his name — a few of which remain extant — did circulate in antiquity. Critical ancient sources like Aristotle and Aristoxenus cast doubt on these writings. Ancient Pythagoreans usually quoted their master's doctrines with the phrase autos ephe ("he himself said") — emphasizing the essentially oral nature of his teaching.
The Pythagorean theorem: The sum of the areas of the two squares on the legs (
a
and
b
) equals the area of the square on the hypotenuse (
c
). The so-called Pythagoreans, who were the first to take up mathematics, not only advanced this subject, but saturated with it, they fancied that the principles of mathematics were the principles of all things. Since the fourth century AD, Pythagoras has commonly been given credit for discovering the Pythagorean theorem, a theorem in geometry that states that in a right-angled triangle the are a of the square on the hypotenuse (the side opposite the right angle) is equal to the sum of the areas of the squares of the other two sides – that is,
a
2
+
b
2
=
c
2
. While the theorem that now bears his name was known and previously utilized by the Babylonians and Indians, he, or his students, are often said to have constructed the first proof. It must, however, be stressed that the way in which the Babylonians handled Pythagorean numbers implies that they knew that the principle was generally applicable, and knew some kind of proof, which has not yet been found in the (still largely unpublished) cuneiform sources. Because of the secretive nature of his school and the custom of its students to attribute everything to their teacher, there is no evidence that Pythagoras himself worked on or proved this theorem. For that matter, there is no evidence that he worked on any mathematical or meta-mathematical problems. Some attribute it as a carefully constructed myth by followers of Plato over two centuries after the death of Pythagoras, mainly to bolster the case for Platonic meta-physics, which resonate well with the ideas they attributed to Pythagoras. This attribution has stuck down the centuries up to modern times. The earliest known mention of Pythagoras's name in connection with the theorem occurred five centuries after his death.
In old school textbooks the proof of Pythagorean theorem through reception of equality of the sum of the areas of the squares constructed on cathetuses of a rectangular triangle, the area of the square constructed on a hypotenuse of this triangle was resulted: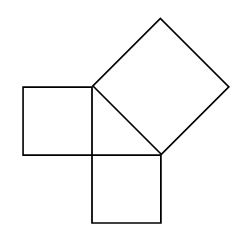 Pythagorean "trousers"
Constructed on sides of a triangle and squares missing in different sides really reminded breed of man's trousers that has generated a known joke: «Pythagorean "trousers" are equal on all sides».
Pythagoras' religious and scientific views were, in his opinion, inseparably interconnected. Religiously, Pythagoras was a believer of metempsychosis. He believed in transmigration, or the reincarnation of the soul again and again into the bodies of humans, animals, or vegetables until it became immortal. His ideas of reincarnation were influenced by ancient Greek religion. Heraclides Ponticus reports the story that Pythagoras claimed that he had lived four lives that he could remember in detail, and, according to Xenophanes, Pythagoras heard the cry of his dead friend in the bark of a dog.
But we'll return to mathematics. Pythagoreans have been keen by construction of proper geometrical figures by means of a compasses and a ruler. They keen by these "construction" have built figures down to a proper pentagon and were puzzled with how by means of all the same a compasses and a ruler to construct a proper heptagon? It is necessary to tell at once, that it was not possible to them. But they not only were puzzled, but also have puzzled all reasonable mankind which with a compasses and a ruler in hands, having wrinkled foreheads, has rushed to build proper heptagons. But, far from it! The problem of Pythagoreans remained unresolved more than two millenniums! And only in 1796 it has solved by 19-years German young man Carl Friedrich Gauss (1777-1855), nicknamed later «king of mathematicians». Has constructed a heptagon the young genius incidentally, being engaged at all other calculations. Gauss has stated the theory of the equations of division of a circle which in many respects was a prototype of the brilliant theory of other 19-years genius – Frenchman Evariste Galois (1811-1832).
This problem waited for the decision more than two thousand years... How many patience and time it is required sometimes on the decision of this or that problem! What brilliant minds take part in its decision and what most powerful push gives progress of a science process of the decision of the problems put by great scientists! In this case the surprising the way – from Pythagoras' problem up to theories of Gauss and Galois is traced!